Venerable Robina Courtin: Understanding the Buddha's Teachings for Ourselves
Posted
For this episode of the Wisdom Podcast, host Daniel Aitken speaks with Venerable Robina Courtin, Australian-born Buddhist nun. Venerable Robina has led an extremely active and inspiring life—from her dynamic work as an editor of a wide variety of Buddhist books, to her Buddhist teaching activities that traverse the globe.
In this lively episode, you'll hear Venerable Robina share riveting stories from her early years as a young activist, when she was trying to figure out her own spiritual and political paths. You'll also hear Venerable Robina discuss how to deal with anger, how to practice mindfulness, and how to understand karma, amongst many other topics.
This episode was recorded as part of our new series, Wisdom Dharma Chats, where you can attend live video versions of the Wisdom Podcast from the comfort of your own home. Wisdom Dharma Chats also include a Q&A where you can ask questions directly to Buddhist teachers, practitioners and scholars.
About the Interviewee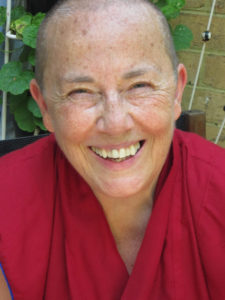 Venerable Robina Courtin has worked full-time for Lama Thubten Yeshe and Lama Zopa Rinpoche's FPMT (Foundation for the Preservation of the Mahayana Tradition) since ordaining in the late 1970s. Over the years she has served as editorial director of Wisdom Publications, editor of Mandala Magazine, executive director of Liberation Prison Project, and as a touring teacher of Buddhism. Her life and work with prisoners have been featured in the documentary films Chasing Buddha and Key to Freedom.