David P. Jackson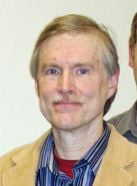 David P. Jackson received his doctorate in 1985 from the University of Washington and studied and translated for many years in Seattle for the polymath Tibetan scholar Dezhung Rinpoche. Until 2007, he was a professor of Tibetan Studies at Hamburg University in Germany and is now a curator for Rubin Museum of Art, New York. He is the author of numerous articles and books on Tibetan art, literature, and history, including A Saint in Seattle, Tibetan Thangka Painting, The Mollas of Mustang, and Enlightenment by a Single Means. He lives in Washington State.
Books, Courses & Podcasts
A Saint in Seattle
In 1960, the Tibetan lama Dezhung Rinpoche (1906-87) arrived in Seattle after being forced into exile from his native land by the Communist Chinese. Already a revered master of the teachings of all Tibetan Buddhist schools, he would eventually become a teacher of some of Western Buddhism's most notable scholars. This is the inspiring and unlikely biography of a modern buddha.
Stages of the Buddha's Teachings
Runner-up for 2017 Shantarakshita Award for Excellence in Translation from the Tsadra Foundation
The "stages of the teachings" or tenrim genre of Tibetan spiritual writing expounds the Mahayana Buddhist teachings as a systematic progression, from the practices required at the start of the bodhisattva's career to the final perfect awakening of buddhahood. The texts in the present volume each exerted seminal influence in the Tibetan Buddhist tradition. The first text, The Blue Compendium, presents the instructions of the Kadam teacher Potowa (1027/31–1105) as recorded by his student Dölpa (1059–1131). This verse work is followed by Gampopa's (1079–1153) revered Ornament of Precious Liberation, which remains the most authoritative text on the path to enlightenment within the Kagyü school with its extensive quotations from the Indian scriptures. The final selection is Clarifying the Sage's Intent, a masterwork by the preeminent sage of the Sakya tradition, Sakya Paṇḍita (1182–1251).