Khenchen Thrangu Rinpoche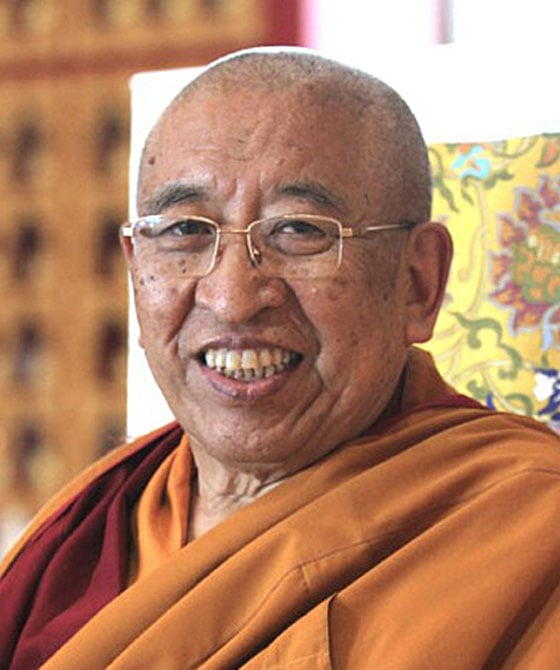 Khenchen Thrangu Rinpoche is a senior scholar within the Kagyu tradition of Tibetan Buddhism and the author of many books and commentaries. He was born in Kham, Tibet, in 1933 and entered Thrangu Monastery at age seven. He serves as the main tutor to His Holiness the Seventeenth Karmapa and travels worldwide giving teachings and leading retreats. Based in Nepal and India, he is also abbot of Gampo Abbey in Nova Scotia and founder of Vajra Vidya Retreat Center in Crestone, Colorado.
Books, Courses & Podcasts
Creation and Completion
Creation and Completion represents some of the most profound teachings of Jamgön Kongtrul (1813-99), one of the true spiritual and literary giants of Tibetan history. Though brief, it offers a lifetime of advice for all who wish to engage in-and deepen-the practice of tantric Buddhist meditation.
The original text, beautifully translated and introduced by Sarah Harding, is further brought to life by an in-depth commentary by the contemporary master Thrangu Rinpoche. Key Tibetan Buddhist fundamentals are quickly made clear, so that the reader may confidently enter into tantra's oft-misunderstood "creation" and "completion" stages.
In the creation stage, practitioners visualize themselves in the form of buddhas and other enlightened beings in order to break down their ordinary concepts of themselves and the world around them. This meditation practice prepares the mind for engaging in the completion stage, where one has a direct encounter with the ultimate nature of mind and reality.
Essentials of Mahamudra
What would you see if you looked directly at your mind?
The Tibetan Buddhist teachings on mahamudra are known for their ability to lead to profound realization. Peaceful and infinitely adaptable, these teachings are as useful for today's busy world as they have been for centuries.
Written by the tutor to the seventeenth Karmapa, Essentials of Mahamudra is a commentary on Tashi Namgyal's famous Moonlight of Mahamudra—a text that the sixteenth Karmapa had identified as the most valuable for Westerners. Khenchen Thrangu Rinpoche recognized that Western meditators don't just need to know how to maintain our meditation practice—we need to know why we should do it. Unmatched in its directness, Essentials of Mahamudra addresses both these needs, rendering one of the most advanced forms of meditation more easily adaptable to our everyday lives.
A Song for the King
Mahamudra is the basic meditation practice for many Tibetan Buddhists, particularly of the Kagyu tradition. It is particularly adaptable for modern people, since it involves no rituals and can be incorporated into all daily activities. Saraha's "Song for the King" is a short verse text from classical India that is a basis for the tradition and is widely known in Tibetan Buddhist circles. It is often the basis for teachings given in the West, but there is only one outdated translation of it in print, first published in 1969. Michele Martin has produced a stellar new translation, which is accompanied by a commentary from the well-known teacher Khenchen Thrangu Rinpoche, who is uniquely skilled and concerned with making this method of meditation available to Westerners.
While pithy and accessible, the book easily stands up to academic scrutiny, and includes the original Tibetan as well—making it ideal for the popular, scholarly, and Tibetan audiences all at once.