Sakya Pandita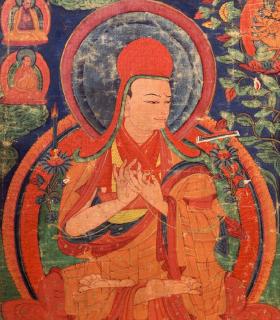 Sakya Pandita Kunga Gyaltsen (1182–1251) was a renowned scholar and Tibetan statesman who staved off a Mongolian invasion by converting Emperor Godan Khan to Buddhism. A luminary of the Sakya school of Tibetan Buddhism, his peerless erudition stands out even among a tradition known for its scholastic adepts, and many of his works have been bedrock texts for study and practice since the thirteenth century.
Books, Courses & Podcasts
Ordinary Wisdom
A popular guide to the art of living, the Sakya Legshe—or "Treasury of Good Advice"—has been fundamental to the development of Tibetan culture and character. As in Aesop's Fables, Sakya Pandita uses proverbs and stories to address the basic question: "How are we to live peaceably with ourselves and with others?"
This is the only available English translation of the Sakya Legshe—a book that reveals the heart of the Buddhist way of life.
---
Read Sakya Pandita's biography at the Treasury of Lives.
Stages of the Buddha's Teachings
Runner-up for 2017 Shantarakshita Award for Excellence in Translation from the Tsadra Foundation
The "stages of the teachings" or tenrim genre of Tibetan spiritual writing expounds the Mahayana Buddhist teachings as a systematic progression, from the practices required at the start of the bodhisattva's career to the final perfect awakening of buddhahood. The texts in the present volume each exerted seminal influence in the Tibetan Buddhist tradition. The first text, The Blue Compendium, presents the instructions of the Kadam teacher Potowa (1027/31–1105) as recorded by his student Dölpa (1059–1131). This verse work is followed by Gampopa's (1079–1153) revered Ornament of Precious Liberation, which remains the most authoritative text on the path to enlightenment within the Kagyü school with its extensive quotations from the Indian scriptures. The final selection is Clarifying the Sage's Intent, a masterwork by the preeminent sage of the Sakya tradition, Sakya Paṇḍita (1182–1251).