In part two of this rich two-part online course with B. Alan Wallace, you'll continue your exploration of the four immeasurables—and beyond. This course covers not only empathetic joy and impartiality, but also weaves in teachings on Dzogchen and bodhicitta that will deeply enhance your practice of the Four Immeasurables.
What You'll Learn
the practices of empathetic joy and impartiality
how to enhance your practice of the four immeasurables with a deeper understanding of Dzogchen and bodhicitta

the practice of sadhana

the practice of relative and ultimate bodhicitta in the context of Dzogchen

and much more!
Lessons
1
Lesson 1: Empathetic Joy
In this lesson, Alan introduces the third of the four immeasurables: empathetic joy. He explains how we can recognize the nature of empathetic joy, and what it means to take delight in our own virtues without falling into narcissism.
2
Lesson 2: Dependent Origination, the Madhyamaka View, & Emptiness
In this lesson, Alan discusses Longchenpa's teachings on the four immeasurables, how to break through low self-esteem via the understanding of not-self, the four immeasurables from the Mahayana perspective, and much more.
3
Lesson 3: The Third Turning of the Wheel of Dharma
In this lesson, Alan teaches on the third turning of the wheel of dharma, the nature of a Buddha's mind, how we can affirm the existence of Buddha-nature, and beyond.
4
Lesson 4: Buddha-Nature & Great Compassion

Available on: 02-Oct-2020

In this lesson, Alan teaches on: great compassion, the two types of Buddha-nature, how to activate Buddha-nature, and beyond.
5
Lesson 5: The Benefits of the 4 Greats

Available on: 09-Oct-2020

In this lesson, Alan teaches on: moving from great empathetic joy into great impartiality, what great compassion looks like in practice, what it means to be a bodhisattva, and beyond.
6
Lesson 6: Introduction to Bodhicitta

Available on: 16-Oct-2020

In this lesson, Alan provides an introduction to bodhicitta and guides us through some passages from Shantideva's Bodhisattva's Way of Life.
7
Lesson 7: Bodhicitta in Action

Available on: 23-Oct-2020

In this lesson, Alan teaches on: the relationship between observing suffering and having bodhicitta, the motivation of a bodhisattva, how compassion helps us to bear the suffering of the world, and beyond.
8
Lesson 8: Introduction to Vajrayana

Available on: 30-Oct-2020

In this lesson, Alan teaches on: the sadhana of Avalokiteśvara, the energy of primordial consciousness, and beyond.
9
Lesson 9: Introduction to Dzogchen

Available on: 06-Nov-2020

In this lesson, Alan leads us into Dzogchen, teaching on the meaning of the term "great perfection," the Dzogchen view and how it can help free us from grasping, and beyond.
10
Lesson 10: Bodhicitta & Dzogchen

Available on: 13-Nov-2020

In this last lesson, Alan wraps up the course with teachings on: the benefits of shifting our priorities to eudaimonia, ultimate and relative bodhicitta, how the four immeasurables support emotional well-being, and beyond.
About the Teacher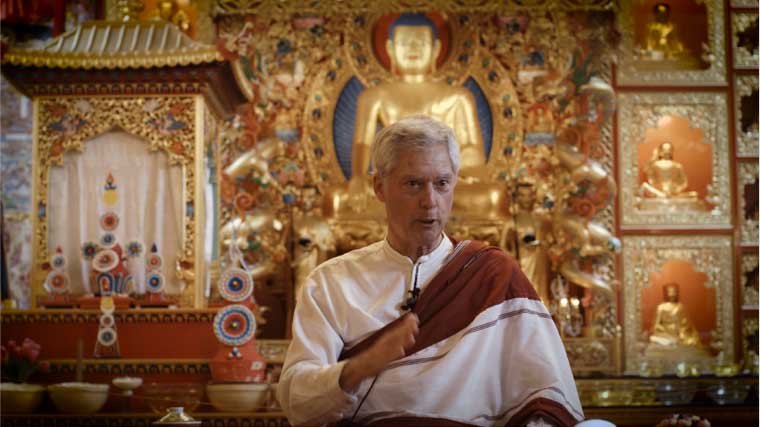 Dynamic lecturer, progressive scholar, and one of the most prolific writers and translators of Tibetan Buddhism in the West, B. Alan Wallace, PhD, continually seeks innovative ways to integrate Buddhist contemplative practices with Western science to advance the study of the mind.
Dr. Wallace, a scholar and practitioner of Buddhism since 1970, has taught Buddhist theory and meditation worldwide since 1976. Having devoted 14 years to training as a Tibetan Buddhist monk, ordained by H. H. the Dalai Lama, he went on to earn an undergraduate degree in physics and the philosophy of science at Amherst College and a doctorate in religious studies at Stanford. He later studied Dzogchen with Gyatrul Rinpoche, a senior teacher in the Nyingma school of Tibetan Buddhism. With his unique background, Dr. Wallace brings deep experience and applied skills to the challenge of integrating traditional Indo-Tibetan Buddhism with the modern world.
He is the author and translator of several books, including Düdjom Lingpa's Visions of the Great Perfection, Stilling the Mind: Shamatha Teachings From Dudjom Linpa's Vajra Essence, Tibetan Buddhism from the Ground Up, Natural Liberation: Padmasambhava's Teachings on the Six Bardos, and The Attention Revolution.
$247.00Enroll