Ven. Sangye Khadro: How to Meditate (#119)
Posted
This episode of the Wisdom Podcast, recorded live as a Wisdom Dharma Chat, features a conversation with Ven. Sangye Khadro, a Tibetan Buddhist nun and author of the bestselling book How to Meditate: A Practical Guide. Ven. Khadro (Kathleen McDonald) tells us how she discovered Buddhism and how she wrote How to Meditate, including how she teaches meditation to Westerners who typically come to Buddhism in adulthood. She also describes different varieties of meditation and offers suggestions for those with little experience trying to begin their own practice. Ven. Khadro speaks on her favorite aspects of monastic life, and how it allows for an enhanced practice of ethics within a supportive community.

Remember to subscribe to the Wisdom Podcast for more great conversations on Buddhism, meditation, and mindfulness. And please give us a 5-star rating in Apple Podcasts if you enjoy our show—it's a great support to us and it helps other people find the podcast. Thank you!
About the Interviewee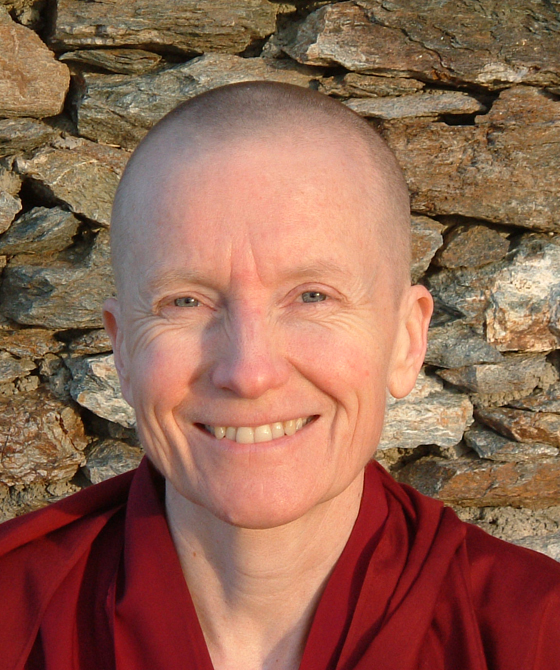 Kathleen McDonald (Sangye Khadro) began studying Buddhism with Tibetan lamas in Dharamsala, India, in 1973. She became a nun in Nepal the following year, and received full (bhikshuni) ordination in 1988. At the request of her teachers, she began teaching in 1980, and since then has been teaching Buddhism and meditation in various countries around the world, occasionally taking time off for personal retreats. She served as resident teacher in Buddha House, Australia, for two years and in Amitabha Buddhist Centre in Singapore for eleven years. From 2008-2015 she followed the Masters Program at Lama Tsong Khapa Institute in Italy.