David Nichtern: Buddhist Wisdom for Realizing Your Creative Vision (#101)
Posted
For this episode of the Wisdom Podcast, host Daniel Aitken speaks with returning guest, author and celebrated teacher David Nichtern. Drawing from his book Creativity, Spirituality, and Making a Buck, David discusses how creativity naturally arises and the conditions that make it flourish before diving into concepts of "clarity, intention, and effort" in the context of both a Buddhist practice and your creative life. You'll hear him talk about what inhibits clarity, how habit derails intention, and how both of these influence the results of our efforts.
David is a meditation teacher and was a direct student of Chogyam Trungpa Rinpoche in the '70s and '80s. He also happens to be a very successful songwriter and music producer, not only in the genre of spiritual music, but for the entertainment industry as well. In addition to working with the likes of Paul Simon, Stevie Wonder, and Krishna Das among many others, David has also been nominated for ten Daytime Emmy awards for his music direction and composition for various television programs.
Learn more about David's upcoming programs with the Tibet House here.
About the Interviewee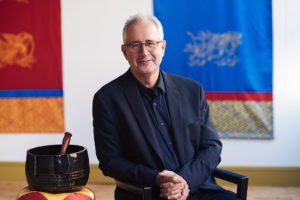 David Nichtern is a senior teacher in the lineage of renowned Tibetan Buddhist meditation master Chogyam Trungpa Rinpoche. David was one of the initial American students of Trungpa Rinpoche and studied closely with him soon after his arrival in the United States in 1970. David has been co-director of the Dharmadhatu Meditation Center (LA) and the Karme Choling Meditation Center (Vermont), as well as Director of Buddhist Practice and Study for OM Yoga (NYC). His work has been featured at The Huffington Post, and he leads meditation workshops around the world and online. David Nichtern is also a well-known composer, producer, and guitarist. A four-time Emmy winner and a two-time Grammy nominee, he is the founder of Dharma Moon and 5 Points Records. David has recorded and played with Stevie Wonder, Jerry Garcia, Lana Del Rey, Maria Muldaur, Paul Simon, and many others, and has also produced multiple records for and toured with Grammy-nominated kirtan performer Krishna Das.