Gil Fronsdal: The Wisdom of Many Traditions
Posted
For this episode of the Wisdom Podcast, host Daniel Aitken speaks with Gil Fronsdal, American Buddhist writer, teacher, and scholar in both the Zen and Theravada traditions. Gil was ordained as a Sōtō Zen priest at the San Francisco Zen Center in 1982, and later became a Theravada monk in Burma in 1985.
As someone committed to two distinct traditions, Gil brings an unusual breadth and depth of knowledge to his practice. Incredibly self-aware in his observations about his own spiritual development, Gil describes his training in vipassana with U Pandita and how the practice of mental noting radically transformed his Zen practice of shikantaza. You'll hear Gil describe so many fascinating epiphanies along his journey—for example, how learning the difference between mindfulness and concentration was a liberating experience for him. You'll also hear how meditation is actually a form of deep expression for Gil—a way of accessing a deeper wellspring of life—and how this is connected to a sense of wholeness and integrity for him, both on the cushion and off.
About the Interviewee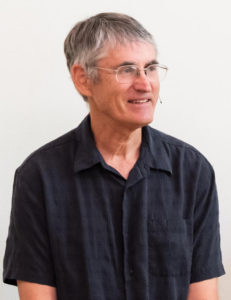 Gil Fronsdal is the founding teacher and a co-guiding teacher at the Insight Meditation Center in Redwood City, California, as well as guiding teacher at the Insight Retreat Center in Santa Cruz, California. Gil has practiced Zen and Vipassana since 1975 and has been teaching since 1990. He has an undergraduate degree in agriculture from U.C. Davis where he was active in promoting the field of sustainable farming. In 1998 he received a PhD in religious studies from Stanford University, where he studied the earliest developments of the bodhisattva ideal. He is the author of The Buddha Before Buddhism: Wisdom from the Early Teachings and A Monastery Within, among many other titles, as well as a translator of The Dhammapada, published by Shambhala Publications.